For I will take you out of the nations; I will gather you from all the countries and bring you back into your own land.  I will sprinkle clean water on you, and you will be clean; I will cleanse you from all your impurities and from all your idols.  I will give you a new heart and put a new spirit in you; I will remove from you your heart of stone and give you a heart of flesh.  And I will put my Spirit in you and move you to follow my decrees and be careful to keep my laws."  Ezekiel 36:24-27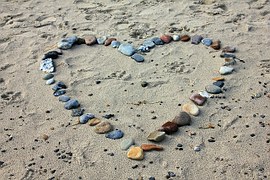 Everyday in my work, I see how sin and disobedience affects a person's life. It starts with one sin, which leads to another one and then as they try and fix their life, they make another sinful decision.  The enemy begins with one lie which brings an avalance of other lies and shortly, his lies become people's distorted version of their truth.
As I was conversating with a friend today, she was talking about her past and how sin, her sin and that of others around her, wrecked havoc in her own life.  As she reflected back to how her life formerly was and who she was currently, she adamantly professed that the only thing that changed her, the only thing that got her through difficult times, was God's Word.  She said, "Cheryl, it was nothing else.  It was simply God's Word.  When I was going through the pain of losing my husband, I would simply curl up in a ball and hold my Bible.  As His Spirit strengthened me, I would open up the Bible and read page after page, book after book.  It was the only thing that ever helped me."
The contrast between what the enemy of our soul offers in comparison to the beauty that the Lord offers are extreme opposites.  God specialized in reaching down to this Earth and taking the life of the one that is seeking him and bringing him into right standing where He created them to be.  God takes us out of our muck and mire, just at the moment when we think we're going down for the last time, and washes us clean.  He removes all of the impuritites and takes our heart that became so cold and hard and softens it…breathes new life into it.  He gives us a new chance, a new beginning.
His challenge to us???  To follow His laws.  He knows that His laws are what keep away pain from our lives.  As we instruct our children in certain areas, we do so because we love them and we know what is best for them.  In the same way, God instructs us because He doesn't want us to go back and live our lives in ways that bring destruction and pain upon us.
His patient calling and wooing of our hearts to His is the most beautiful love story every written!